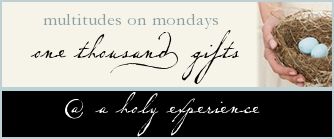 Today I am giving thanks for:
1. Friends who remind me that materialism will only lead to bondage--not joy...and that true freedom is found in being unfettered with possessions.
2. The dimply smiles of my daughter.
3. The forecast of sunny skies for the week.
4. Having a husband who continues to grow and to challenge me to grow in faith.
5. The freedom of time to serve others, read, write, and do the things I enjoy. The freedom to spend more time with Burrito.
What are you thankful for today? Join up, and
give thanks in all things
!