Today I am thankful for: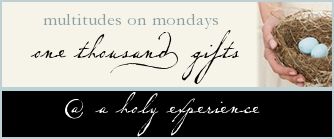 131. The gorgeous weather we have been having in the Flathead Valley. Sun! Warmth!
132. A chance to get outside and walk. I'm loving the way my muscles actually feel like I'm using them! And who can beat that wonderful fresh air here in Montana?
133. A daughter who "ruined my mad" tonight by singing "Edelweiss" when I was seriously annoyed with her.
134. The incredible blessing of being asked to be a godparent (with my husband) to a precious baby boy. Last week, I had the privilege of attending his baptism and what joy!
135. Girls' night out with my lady friends. What a joy to have so many lovely woman friends who I can truly be myself with!
BONUS: The chance to dig in the dirt and pot a geranium plant and some seeds today. How hopeful planting is!
What are you thankful for today?