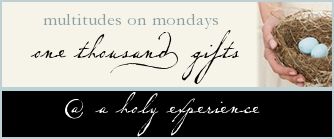 It's been a crazy week...Lots of exhaustion...plenty of busyness...
dealing with potty training again
...and a pretty darn awful case of what appeared to be TMJ. Those are the kinds of weeks when it goes everything in me to be thankful. Instead, I want to complain...or better yet, climb into a hole somewhere. But God calls me to "give thanks in all circumstances," and if I try hard enough, I can see His light peeking through the darkness. Here's what I'm thankful for today:
46. The ability to chew. This is definitely something I take for granted. But this week when even trying to chew a raisin or soft pasta was agonizing, I started to feel more grateful for the ability to chew. What a blessing it is to be able to enjoy food as I usually do.
47. Friends who gave me lots of helpful, funny, encouraging advice in the midst of this painful episode. And the result being that my jaw is feeling better every day. Thanks be to God!
48. The way exhaustion, pain, or struggles with toddler wills lead me to God. Without such struggles, would I seek God earnestly? I don't know (but doubt it), so I am grateful for the struggles.
49. A husband who "takes over" when I am so exhausted that all I can handle is throwing myself into bed.
50. The blessing of a food processor...and the wonders of pineapple and its benefits for relieving inflammation. Try it sometime!
What are
you
thankful for today?