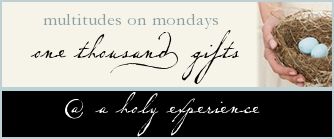 Today I am grateful for:
56. Time to write. Not having to work outside the home, I find myself with far more time and energy for writing. And it's wonderful and fulfilling. I am so grateful.
57. A fantastic birthday party for my daughter who turned 3! We had the most wonderful evening with a backyard barbecue, happy children running around and an absolutely delighted daughter.
58. Our friends, who make our lives so much richer. In North Dakota, we had almost no friends our own age for most of the time that we lived there. What friends we did have were busy pastors (just like us). My soul was thirsting for friendships, real ones where I could be open and honest, warts and all. God has given these friends to me. In the flesh.
59. The opportunity I have to sit down and just soak in God's Word at a local Bible study. It's so wonderful to not have to be the leader sometimes.
60. The end of a wonderful stewardship campaign that I assisted with at church. The best part of it was the wonderful relationships I developed with two savvy, smart, faithful older women, who I worked with on the campaign. They encouraged me so much and it has been so long since I was praised for something I did in ministry. It was water to a thirsty soul. It was so wonderful too to see how our gifts balanced each other out; each of us could do something the others couldn't. What a blessing!
What are you thankful for today?