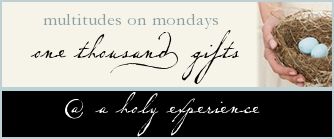 I'm juggling a lot of projects lately and missed posting Multitudes last week.
Isn't it the truth that when we
most
need to reflect on our blessings and give thanks to God that it falls by the wayside? This is a growing edge for me.
Here's this week's list of things I am thankful for:
51. An afternoon off on Saturday on which I took myself to see
The Help
and remembered why I loved the book so much.
52. Having 3 of 6 parenting Bible study lessons written for church...and having God challenging
me
in the areas I'm writing about.
53. New people in church yesterday and a husband who courageously speaks the truth in his sermons.
54. A break from potty training, which was exhausting me.
55. The ability to chew again! TMJ seems to be gone, at least for now.
What are you thankful for today?