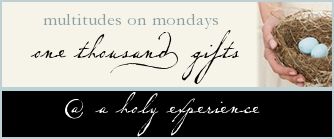 Here's what I'm thankful for this week:
76. The continued blessing of "computer Sabbath" on Sundays, giving me more time to read and spend time with family.
77. The good attitude of my daughter lately. I think her current developmental stage is starting to set in for both of us and we are both dealing better with toddler-hood.
78. The way my family continues to make me feel rich, day by day. I look at Burrito and cannot believe the joy that God has given her to me. I look at my husband and give thanks for his faithfulness, kindness and support.
79. That my daughter said John 3:16 all the way through all by herself this week!
80. That I have a public library that constantly enriches my life with lots of free, wonderful books to read!
What are YOU thankful for today?