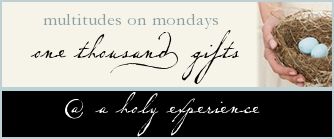 Today I am thankful for:
86. A wonderful weekend with hubby and daughter. Great family activities at home, a fun Art Walk in Bigfork, and then a great Daddy/daughter date to see the big tree get lit up in town.
87. A cheerful daughter today. So much singing!
88. Doing better selling MOPS raffle tickets than I expected, and enjoying good conversation with my friend.
89. A happy week of thankfulness ahead!
90. The excitement of planning for Christmas.
What are YOU thankful for today?