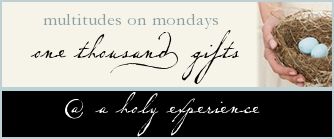 Today I am thankful for:
126. A beautiful day yesterday and the chance to enjoy a drive to Glacier National Park.
127. Belly laughs with my husband and daughter.
128. People who don't know me--and sometimes don't agree with me--who are finding my blog, leading to wonderful, meaningful conversations.
129. That God's grace is big enough for any sin, if we will but turn to Him in repentance.
130. That I can still type on my computer even if a couple of keys are broken (and that we were able to order replacement keys!).
What are YOU thankful for today?