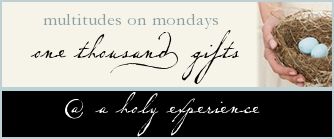 Today I am thankful for:
16. Discovering a new way of dusting--turn the fan on all night!:-) (I woke up to this nice surprise.)
17. Burrito feeling better after a yucky cold...back to her joyful self.
18. That a friend's husband who was missing on a fishing trip was found safe and sound.
19. My husband's amazing sermon series on our church's mission statement. Powerful preaching!
20. Delicious salty caramel ice cream.
What are you thankful for today?