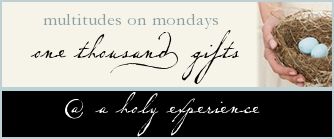 21. The gifts of creativity found in the band and crew of the U2 360 tour. The majesty, beauty, and awe-inspiring technology of their set and music elevate their work to more than a temporal experience. Instead their music as it speaks about God and yearning and the hurts of the world in need of justice elevates us to worship that flows into service. What a gift to be able to be there for such an experience.
22. Seeing my daughter hold a friend's baby with care and delight.
23. Seeing my friend transform into a beautiful mother.
24. The hospitality of friends and family.
25. Seeing crowds of people be patient and in good humor, even when they're tired.
That's what I'm thankful for today. How about you?