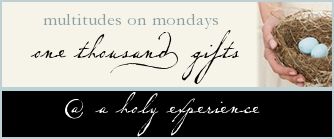 As I have begun to think of my life more in the terms of thanksgiving, I am finding that it surely doesn't come easily. Fear, anxiety, anger, and that crafty fellow covetousness come to me far more easily. One time this week when I felt my heart compressing, I turned to Christopher and began to number off what I was thankful for. It helped and my heart began to lighten.
I have heard it said that original sin is the most empirically verifiable theological concept of all theological concepts. I agree. I am convinced not just by what I see in the world, but by what I see in my own heart.
So, if these vices are the things that seek to grip my heart...and if the answer is thanksgiving...then now is the perfect time to turn to Multitudes on Mondays to number off what I am thankful for:
6. For a sweet boy who gave Burrito his little flag at the 4th of July parade.
7. For a whole week of sunshine.
8. For being able to live in an area where something is always happening.
9. For delicious food...like fresh potato salad.
10. For my friend who is visiting and seems to me to embody a thankful lifestyle.
What are YOU thankful for today?