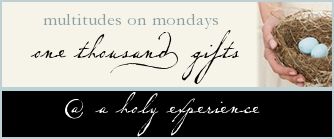 This week I am thankful for:
61. The continued blessing of "
computer Sabbath
" on Sunday.
62. The joy of a wonderful date with my husband on Friday. The joy of having places to go with him that refresh me and quiet my sometimes anxious heart.
63. A daughter who sat still at church on Sunday and mostly behaved (except for the moment when her blankie went airborne during the service!).
64. A community that feels like a family to me.
65. The continuing opportunity to do something regularly that engages me and fills me with joy: write.
What are you thankful for today?