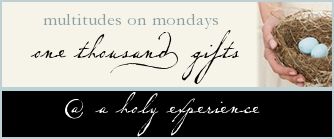 71. My daughter's exuberant joy as she sang with the Sunday School kids at church on Sunday. She was jumping up and down and singing and I didn't know whether to laugh or cry from all the joy she brings me.
72. The continued wonderful class at church on evangelism. It is through the Institute of Lutheran Theology and has opened my eyes to how evangelism can be done in a Lutheran way. Lots of wonderful, Bible-based teaching.
73. The great Sunday School program at our church. The kids may be small in numbers but the teachers and volunteers are so dedicated and I see such a difference in the life of my daughter and the other kids at church. Positive peer pressure for Jesus!
74. That after a tough night with a sick and freaked out daughter, she woke up perky and happy.
75. That my husband is bold and courageous as a leader, willing to follow the Lord faithfully.
That's my list. What's yours?