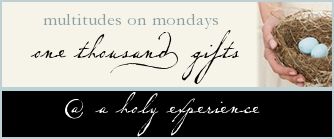 This week I am thankful for:
66. A great class on Lutheran evangelism that we are streaming to our church through the Institute for Lutheran Theology (ILT). This is great timing for me to have such a wonderful, Biblically-based class as I've been struggling with some related questions.
67. The blessing of a great Sunday School program for my daughter that encourages her to grow in her faith.
68. A great talk with a friend who lives far away and who understands me so very well. And loves Jesus!
69. That my husband is back from his 5-day trip to a church conference! I always appreciate him more when he returns from a trip!
70. That the week when Daddy was gone, we were safe and everything went fine. And we had great fellowship with friends so that we were not lonely!
What are you thankful for today?