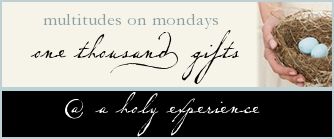 We just got back from a two week vacation that involved driving across multiple states in order to reach relatives, friends, and of course the U2 concert in Minneapolis/St. Paul. I will write more about our trip soon but for now, here is what I'm thankful for today:
26. Safe travels...and that the worst car malfunction to happen on our trip was the CD player breaking...which was able to be remedied by playing Burrito's kid CDs in her mini DVD player. Hooray! A toddler on a road trip without music would not have been a good time!
27. Chances to hear life-changing testimonies of God's work in friends' lives.
28. Hospitality of friends and family.
29. A Burrito who managed the car ride ok, despite LONG periods of time sitting and lack of naps.
30. The joy of coming home to our house...and the joy of being so happy where we live that I longed to come home. The joy of Burrito arriving home and hugging her crib!
What are YOU thankful for today?