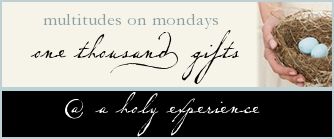 Here's what I'm thankful for this week:
31. God bringing me through a few days of anxiety to feeling better and being less focused on myself.
32. Opportunities to be out in the sun, enjoying God's creation, here in the mountains of Montana. A (previously never before experienced) urge to hike.
33. The fun of living in a vacation community where I can enjoy for free or cheap things that other people have to pay big bucks for.
34. The blessings of Christian friends, with whom iron sharpens iron.
35. A week in which Burrito and I got along famously and greatly appreciated being out of the car, with our requisite space and adequate sleep. Being able to enjoy each other, rather than be annoyed with each other.
What are
you
thankful for today? For some inspirational reading, I recommend Ann Voskamp's post today,
"The Problem of Evil? The Greater Problem of Good?"
In light of her post, let us all be in prayer for the starving children of Somalia, 30,000 of whom have died in the past 3 months. If you are looking to help in a material way,
Samaritan's Purse
would be a great place to start.