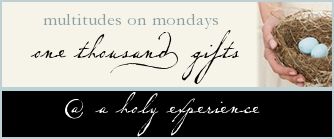 Today I am thankful for:
41. Quality time with my daughter and husband.
42. The way God uses times of distress and trial to draw me deeper into faith.
43. Friends! What joy to spend time talking and just doing life with friends.
44. So much sunshine this summer that a little bit of rain and clouds is welcome.
45. That God's mercies are new every morning and that every day is a new day!
What are YOU thankful for today?