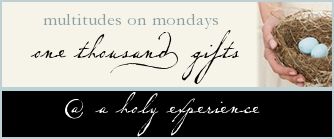 It's not that there were no blessings last week. No, I dropped the ball last Monday and forgot to post them. So, without further adieu, here are this week's:
36. Lots of belly laughs with dear friends who were visiting us this week.
37. Seeing all ages provide elbow grease and cash for our Car Wash for the
Famine Crisis in Somalia
this weekend. We raised over $1000, thanks be to God!
38. The joy of serving in Jesus' name with other Christians. The joy of living out our mission in Christ!
39. A daughter who woke up cooperative this morning! And obeyed! Without nagging!
40. The forgiveness of a loving God...a God who forgives me daily, though I do not deserve it. Thanks be to God for the death of Christ for me. And for the hope of resurrection!
What are
you
thankful for today?