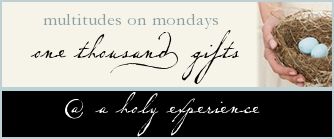 It's the first Multitudes post of the year!
106. The past month has been rich with wonderful memories, but also trying because I have been battling insomnia again. And yet, even in the sometimes fog of sleeplessness, God's mercies are new every morning! He sustains me when I have had a rough night and He fills me with joy when I sleep well.
107. My daughter's growing kindness and compassion. When she came in to my room this morning, the first thing she said to me was, "Did you have a bad night, Mom?" And I was happy to tell her I hadn't!
108. Wonderful family time playing board games with Christopher and Burrito this weekend.
109. The people in my life who "speak a word in season," a word of encouragement.
110. A great pep talk from my Mom this weekend.
Thanks be to God!