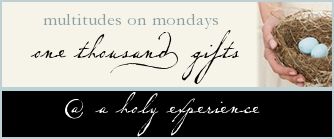 This week I am thankful for:
121. How well writing has been going this month. I started the new year with the thought of really investing in doing even more with my writing and growing an even larger audience. Thanks be to God, doors continue to open. No, I haven't "made it" as a writer yet, but I sure am enjoying the journey.
122. The joys of really good cinema. Recently, I've seen movies that moved me profoundly, spoke to me, and enriched my life: The Descendants, Extremely Loud and Incredibly Close, Midnight in Paris. All of these had something very special to say and I am the richer for having experienced them. God is a creative and awesome God in giving people such wonderful artistic gifts.
123. Kisses and face pats from my little daughter.
124. The joy of watching my husband teach my daughter so many valuable things. He is so patient with her and excellent at coming up with new things to teach her about her world. She hangs on his every word.
125. Good friends, to whom I can pour out my heart. Friends who have time for me. What a gift!
What are you thankful for today?