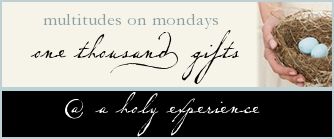 Today I am thankful for:
116. Thick snow, gently falling on the all-too-brown earth.
117. A chance to worship together with both my husband and daughter this weekend.
118. All of the open doors that God has given me to do more editing lately. What a joy to be able to earn some money doing what I love!
119. My Kindle, which I love more every day. What a joy to be able to read and mark up so many wonderful books--often for free!
120. That my daughter is learning to play well by herself.
What are YOU thankful for today?