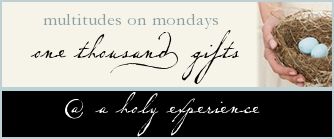 Here's what I'm giving thanks for this week:
111. That when my knee dislocated twice recently, it popped right back in.
112. For hubby's opportunity to get involved in some fun local activities and make some new friends.
113. For a couple of nights of sleep with no sleep aid this week...first time in about 6 weeks!
114. For a daughter who wakes up peppy!
115. For more writing opportunities and more motivation for writing.