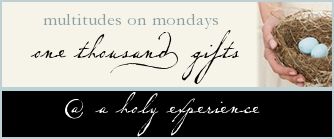 Today I give thanks to God for:
101. The joy of books. In seminary, too much ponderous and pointless reading nearly stole my love of books from me. But in recent years, it has revived. I give thanks too for the blessing of public libraries! And ebooks!
102. For a daughter who got two candy canes (which she adores) in her stocking and whose first response was to turn to me and say, "One for you...". And for the joy of receiving the first gift she picked out herself for me.
103. The joy of seeing our church full on Christmas and the blessing of being so proud of my husband's delivery of the Gospel.
104. The blessing of a quiet day at home on Christmas with the ones I love most.
105. The goodness of a God who is present for those friends who lost a loved one this Christmas...the Baby born in Bethlehem does not mean sparkly parties so much as He means life and salvation...and hope, even beyond the grave.
What are you thankful for today?